Metric Thread

This is the thread most widely used on most nuts and bolts in Europe.  It is a general purpose screw thread.

Metric threads are denoted by the letter M, e.g. M8 denotes an 8mm Metric Thread.

Acme Thread

The acme thread is used on machine feed screws, particularly where a split nut will be engaged and disengaged.

Square Thread

A square thread is a heavy duty thread used on vices, screw jacks and for moving parts of machinery.

Buttress Thread

The buttress thread is strong in one direction only.  It is used on woodwork vices with a quick release mechanism.  The quick release mechanism engages and disengages easily with the sloping sides of the screw.
Example of a screw used as part of clamping device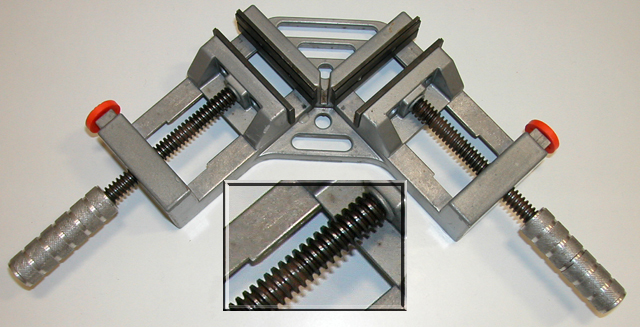 A mitre clamp is shown above. 
A mitre clamp is used to clamp timber and other resistant materials at right angles.  The mitre clamp shown above is intended to be used with timber.  It is used to hold two lengths of timber at right angles, particularly when parts of a frame are being glued and assembled.
Analysis
The clamp consists of:
a cast aluminium body with a spray painted finish
two sliding clamp jaws
four oil blacked clamp jaw pads.
two screws with an acme screw thread
a quick release mechanism for each of the two screws built into the mitre clam body
two knurled aluminium handles attached to the screws.
As with all clamps that utilise a screw, the screw rotates and moves through a stationary internal thread.

In the example above, the screw is rotated manually using the knurled aluminium handle.  The screw pushes or pulls the sliding clamp jaw, depending on which way the screw is rotated.

The screw has an acme thread.  The acme thread is used because it can bear heavy loads and is suitable for use with quick release mechanisms that utilise a split nut or other disengaging nut.
The clamp has four removable oil blacked steel jaw pads.  These are held in place by slotted cheese head screws, recessed in counterbores.  The cheese head screws are used to pull the clamp jaw pads firmly against the clamp jaws.
The two long screws are used to move the sliding clamp jaws.  The internal screw threads in the mitre clamp body are stationary and the long screws move backwards and forwards through them. When the screws are rotated, the screws move backwards or forwards, depending on the direction of rotation and push or pull the sliding clamp jaws.