I grew up in Wales and at 18 went to Goldsmiths College in London to learn to be a design and technology teacher, then later to Brunel University to do my master's degree in design and technology education. I've been head of the design and technology department in two schools and have taught part time for a year at Brunel University.
I've always loved making things, not hi-tech stuff but things out of wood and metal; things that involved using practical skills to make products that could be used. Whilst still at school I made a small lathe for an exam (my father was an engineer), an electric guitar and with help from an adult in my youth club, a fibre glass kayak.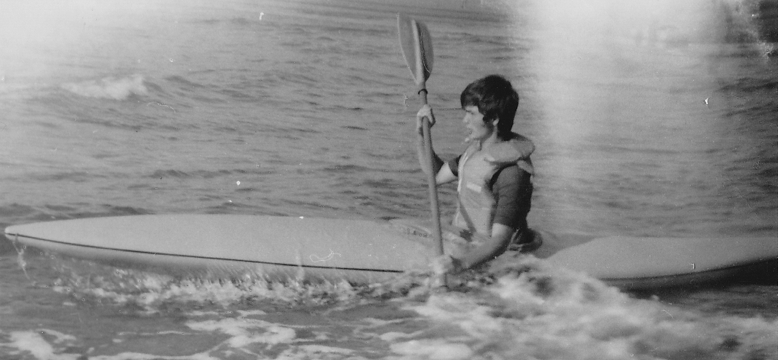 Laszlo Lipot at 16 years of age kayaking off the coast of west Wales. That light bright green kayak was my first big project.
My early 20s was spent dreaming of yachts and all my spare time building one. Next to my father's engineering factory in Abercarn in South Wales was a boiler making factory full of skilled welders who taught me to weld. I spent my weekends and holidays over the next five years building my boat to battleship spec, i.e. welding and welding and over welding. I finally launched my boat in Newport docks and motored it down the Bristol Channel and around to Tenby.
Transporting the partly finish boat to Newport docks. The engine and steering gear were in and working but I still had to finish painting the decks, fitting the windows and the thousand other things that turn a yacht hull into a finished yacht.

Motoring out of Tenby harbour
I kept the boat moored at Cadogan Pier in Chelsea, London. I never did finish the boat as the real expense involved with fitting out a yacht had only just started. In those days just the bare aluminium extrusion for the mast was over £3500 and on my teacher's salary I could not afford to finish the fitting out. The sale of the boat gave me the money to build a conservatory and an office in my garden in Twickenham. The sale of my house in Twickenham enabled me to build a house besides Lake Balaton in Hungary and travel between London, Wakefield and Lake Balaton.
My house by Lake Balaton with Tirolean style balcony,
the balcony built by me.

Sheelagh and Laszlo Lipot in beautiful Oberau, Austria
In 1999 I was looking up some information on the British Plastics Federation web site when I came across a wonderful animation of a plastics process. I thought animations of processes were exactly what was needed to help students understand design and technology theory in schools. I proceeded to learn Flash animation and HTML and started producing my own animations, theory notes and interactive tests, then went self employed trading as Multimedia Design and Technology Education.
Since then, I have produced hundreds of animations that took me thousands of hours to complete. I have produced various software packages that developed into D&T Modules covering various specific topics, e.g. plastics, mechanisms, wood joints, tools etc.
I am in the process of updating all my work and making it available for all to download and use free of charge.
I spend my time working on my D&T software, maintaining the house, preparing the apartments in our back building for our summer guests and cycling the 200 km of cycle paths around Lake Balaton. Check my other web site, www.balatontourism.com .